Q. How do I determine the number of stairs and landings I will need?
A. The number of feet measured is equal to the number of stair treads. Add a top landing of 6' and, if stairs are more than 24', add a 3' landing to "break up" the run of steps.
Q. Do I have to know the slope of my bluff?
A. It's not necessary to know the slope of your bluff. The VSS adjusts to a range of stair angles from 25 degrees to 45 degrees.
Q. How difficult is assembly?
A. Components bolt up quickly with simple hand tools and assembly instructions. You can pre-assemble 8' long stair sections or one step at a time if you're on your own. Your ability to work on your bluff is your greater challenge.
Q. How is their surface-bearing design held in place?
A. Steel wire rope placed below grade, where possible, connects the top landing to a hand driven helical anchor (supplied to you). Your particular soil conditions may require a customized anchor. Secure anchoring is critical.
Q. What does the VSS weigh?
A. A 8' x 3' stair section weighs about 85 pounds assembled
Q. What does it cost to ship?
A. A fully insured commercial freight delivery will run about $500.00 per 1,000 pounds per 1,000 miles. This amount would cover a 40' VSS.
Q. Do I need a permit?
A. The Michigan Department of Environmental Quality does not require a permit even in Critical Dune and High Risk Erosion designations. The VSS does comply with Michigan Residential Building Code as well as BOCA. Always check with your local code officials in your area for compliance.
Q. How long should the VSS be of save service?
A. VSS materials and their proper assemblies should provide decades of safe use. Under normal environmental conditions, there should be little or no maintenance required. The amount and severity of land movement may require more significant adjustments or re-location of the stair system.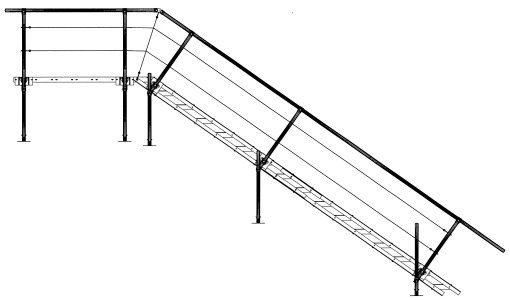 For updates and more information, follow VSS on Facebook